November 28, 2016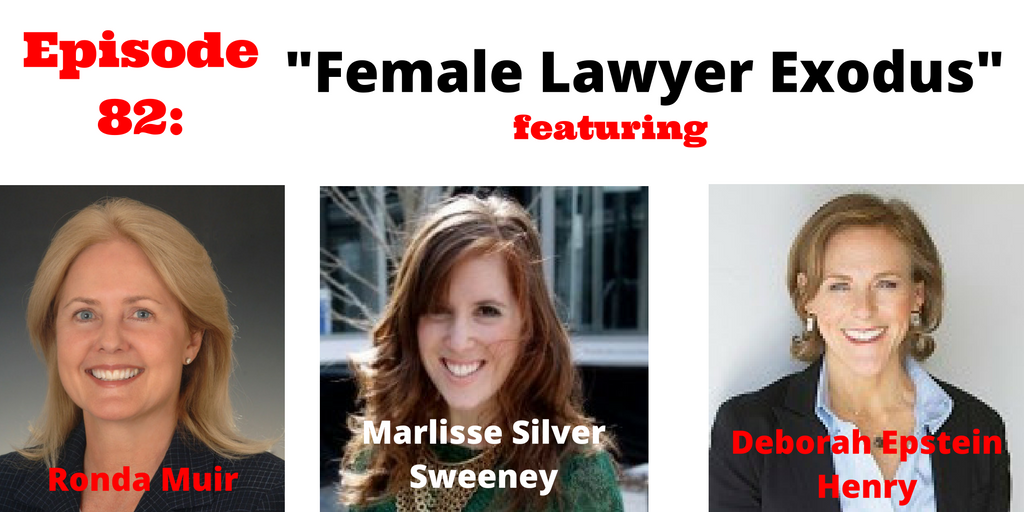 Podcast: Play in new window | Download | Embed
Subscribe: Apple Podcasts | Android | RSS
Why are there so many women leaving the practice of law? Even though 47% of law degrees are awarded to women, female lawyers make up only 36% of the profession in 2016. What is up with those numbers? I decided to reach out to several thought leaders on the issues of women in the law to hear their thoughts on what's causing women to leave the law, or at the very least, leave big law firms. My guests share their insight on where women are going when they depart, what needs to change in the profession in order for more women to remain in the profession, and how more women to make it into top leadership positions at firms.
My guests for this episode:
Marlisse Silver-Sweeney – law graduate turned professor and freelance journalist
Twitter: @marlissess
Deborah Epstein Henry – Founder of Flex-time Lawyers, and internationally recognized expert, consultant and public speaker on the future of the legal profession, women and work/life balance.
http://www.flextimelawyers.com/
Ronda Muir – Founder and Principal of Law People Management, LLC, and one of the country's leading authorities on lawyer personalities and the application of behavioral science to the legal workplace
Email: rmuir@lawpeoplemanagement.com
Ryan Hogaboam – Public Defender in Pierce County Washington
Ben – immigration attorney at mid-size full service firm in California
Thanks for Checking Out the Show Notes and for Listening!
I really hope you enjoyed this episode. It was certainly a great experience for me.
If you feel like you just can't keep the excitement you feel for this episode to yourself, please share it using the social media buttons you see at the bottom of the post.
Also, please don't forget to subscribe to the GWL Podcast in iTunes or in Stitcher Radio. That way, every time I prepare a new episode for you, it'll automatically show up in your phone.  No Fear Of Missing Out here.
Once last thing: I would truly appreciate it if you could leave an honest review for The Gen Why Lawyer Podcast in iTunes. Positive ratings and reviews help boost the visibility of the show and help me in reaching more young lawyers.