August 31, 2015
Getting Creative to Build a Law Practice with David Lizerbram [GWL 28]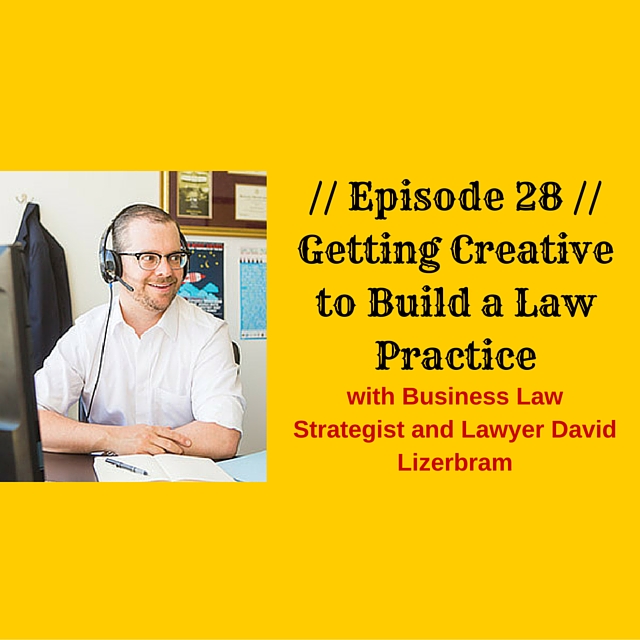 Podcast: Play in new window | Download | Embed
Subscribe: Apple Podcasts | Android | RSS
Are you on Instagram? If so, let's connect! Find me @nic_abboud
David Lizerbram is a business law strategist in San Diego, Ca. He guides businesses of all sizes to get to the next stages. In 2005, he opened his own practice focusing on helping entrepreneurs by bringing strategic projections to legal planning.
What We Chat About in this Episode:
Perhaps law school sparks creativity after all
How to transition out of your practice area if you hate it
If you're serving a client, you have to be where they're comfortable with regards to how you dress, how you carry yourself, how you interact with them.
Good lawyers can be good people with good intentions but they could suck at running a business
How to figure out whom you want to serve as a lawyer
Is it in you to become a solo practitioner?
When first going solo, don't rule out partnering up with someone else on a few matters to fill your time and make money
Blogging as a young lawyer shows hustle and initiative
How David landed a gig as a panelist at Comic-Con
Be an interesting person and people will want to talk to you and you can make the sale
Podcasting can be an effective marketing tool as a lawyer
Podcast Law ebook – www.podcastlawguide.com
Recommended Reading:
Robert Bolton –
People Skills: How to Assert Yourself, Listen to Others, and Resolve Conflicts
 (Affiliate)
Action Item:
Start a blog. It's not easy to get clients and build a business when you're a young lawyer so committing to a blog will help you build your business. Also, a blog will help you figure out if you're passionate about a certain practice area or not.
Contact Information:
www.podcastlawguide.com
Twitter: @davidlizerbram
Thanks for Checking Out the Show Notes and for Listening!
I really hope you enjoyed this episode. It was certainly a great experience for me.
If you feel like you just can't keep the excitement you feel for this episode to yourself, please share it using the social media buttons you see at the bottom of the post.
Also, please don't forget to subscribe to the GWL Podcast in iTunes or in Stitcher Radio. That way, every time I prepare a new episode for you, it'll automatically show up in your phone.  No Fear Of Missing Out here.
Once last thing: I would truly appreciate it if you could leave an honest review for The Gen Why Lawyer Podcast in iTunes. Positive ratings and reviews help boost the visibility of the show and help me in reaching more young lawyers.
*Disclosure:  Please note that the link above is an affiliate link, and at no additional cost to you, I will earn a commission if you decide to purchase this book for your reading pleasure.